Citizen participation online can be easy and affordable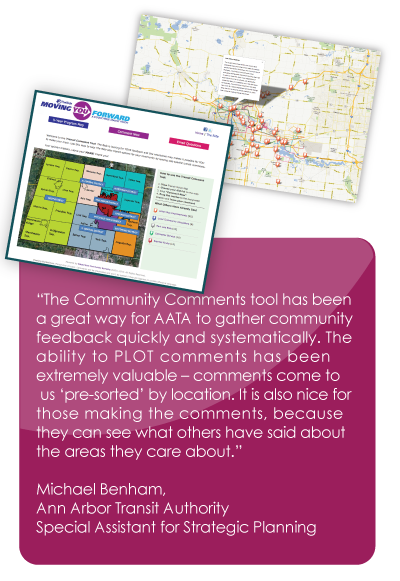 Community Remarks™ is an easy-to-use comment map on a website to facilitate dialog about land use such as redevelopment opportunities, the preservation of historic structures, community character, and zoning. Use it as an asset map, informal preference survey, and feedback platform to reach a larger audience and provide a fun way for citizens to communicate about the quality of their neighborhood.
This application has been utilized in cities of all sizes to increase awareness about the plan, invite 24 hour convenient participation, and ease the comment process during community meetings. It is used throughout the phases of a project to collect general and parcel-specific input. Map layers are added in later phases for citizens to view and respond directly to proposed changes to the built environment.
Visit the Community Remarks website to take it for a test drive and see it in action.
Collaborate
Citizens can help you create more livable communities; they are
begging for a way to share their insight about their neighborhoods
with planners.
Real-time Email Updates
You want to provide the flexibility for people to submit their ideas
without jumping through hoops, right? Let's face it, we love instant
results! Comments go live and you are notified instantly.
Easy Mapping
You want to highlight a community's assets, the public wants to
show you what works and what doesn't in their community.
Images
Photographs provide context and can be very helpful in showing
location-based information. Image files can be uploaded and viewed
inside the map balloon as well as enlarged to full size.
Comment Voting
Each comment can be voted up or down allowing good ideas to rise
to the top. Comments are arranged on the page based on the number
of votes received.
Community Feedback
Comments are collected around map topics you setup. For instance,
your map could have a recommendations section, redevelopment
section, and historic district section to collect specific types of
citizen input.