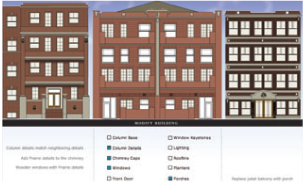 Our residential streetscape allowed residents to have an intelligent dialogue with the developer by seeing modifications to the proposal.
Developers now have a guide to better understand how to blend new construction within the historical context of the district.

COMMERCIAL STYLE GUIDE
RESIDENTIAL STYLE GUIDE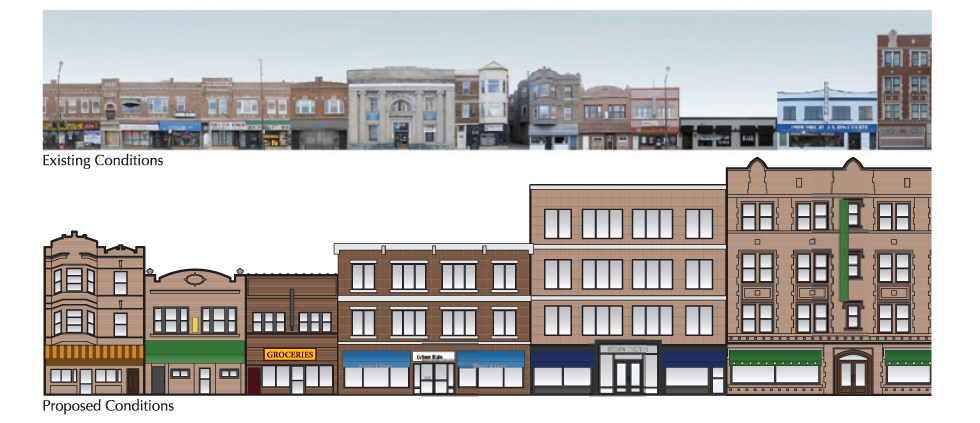 Key Services provided for this project:
Photography and Photoshop work of buildings
Illustrative work to show facade improvements and infill
Formatting and Flash programming of interactivity
The Logan Square neighborhood in Chicago obtained National Registry landmark district designation for the boulevards in 1985 and a City of Chicago landmark district designation "Logan Square Boulevards District" in 2005. In 2007, it received designation as one of the 150 Great Places in Illinois by the American Institute of Architects. It's a beautiful historic neighborhood that remains on the cusp of economic development.
The Milwaukee Corridor is a TIF district and has been studied by numerous planners but implementation has been slow. In order to assist local organizations, PlaceVision constructed an interactive commercial and residential streetscape to promote appropriate development within context.
The outcome: We constructed interactive graphics for community meetings that allowed stakeholders to visualize plans to concisely address questions and issues about context as they arise by turning on and off layers of information.